Best Outdoor Activities in Bloomington, Indiana
There are a variety of places that come to mind when you think of outdoor recreation in the US – Colorado, Montana, Utah, etc. While each of those states boasts a litany of activities to do while visiting, for many, it can be challenging and expensive to reach those destinations. But what if you found a spot that offered high quality outdoors with a high quality city within a 4 hour driving distance of 25 million Americans...?
Let us introduce to you a hidden gem in the heart of the Midwest that can provide all types of outdoor exploration – Bloomington, Indiana! What might not appear the prime outdoor experience at first glance is a wonderfully diverse region that provides all you could want for a long weekend within driving distances of major Midwest cities.
Major cities located within a 4-hour drive of Bloomington: St Louis, Chicago, Columbus, Indianapolis, Cincinnati, Louisville, Nashville. That means you can still have your outdoor adventure without having the hassle or price tag of flying across the country. And with Quiptu – you don't even have to worry about bringing any gear with you! You can simply browse the variety of options of outdoor gear available for rent, select the perfect piece of gear for your adventure, and reserve your booking, all on Quiptu.com.

Top 5 Places to Visit for Outdoor Activities in Bloomington, Indiana
Monroe Lake:
The largest body of water in the state of Indiana – over 10,000 acres! If you're into Kayaking, Paddle boarding, or Canoeing – look no further than pushing in at Cartop State Recreation
Area. A serene beach that gives those looking to try out paddle sports for the first time an easy way to get their toes wet. And it makes a great place to bring a picnic lunch as there are over 13,000 acres of protected forests that surround the lake. A particularly favorite and challenging trail just outside of Monroe Lake is Payne Town State Recreation Area. This area provides spectacular views of the lake, but be warned – the hills will make you earn those views! Monroe Lake currently only has one vendor for kayak rental – and it's located in an area that's relatively open to the chop of nearby boats. Alternatively, renting a kayak or paddle board from an individual can give you the flexibility of pushing in away from these boats and make the experience a little smoother.
Fun fact: Monroe Lake allows for limited ice fishing during winters that are particularly cold!
Griffy Lake
:

Located just north of Indiana University Bloomington, Griffy Lake provides the perfect getaway for those visiting the university. Whether you are into hiking (15+ miles of trails) or are more interested in paddle sports, Griffy offers a variety of options to spend time outdoors. Favorite hikes of locals and visitors include the North Shore Trail and Griffey Creek Trail.
The lake does require a permit for most paddle activities – so ensure that the gear you are renting comes with a permit!
Brown County State Park:
This state park is located 15 miles east of Bloomington, in Nashville Indiana, and is the largest state park Indiana has to offer. Nashville is known for its quaint downtown area with dozens of local artisan shops. A few of our Founder's Favorites include The Wild Olive, Moonshine Leather Co, and, of course, Big Woods Pizza.
Brown County State Park, on the other hand, is widely known to provide the best mountain biking in the Midwest! With nearly 30 miles of trails that range from beginner to expert, there is a route for any and everyone. Friendly Tip: scope out all mountain bike trails before fully sending at high speeds. This can help you visualize where turns will be and help prevent potentially harmful errors.
Or if you're more interested in viewing the spectacular views the park offers by staying on pavement, there are a variety of road and leisure bike rentals available to you.
In addition, Brown County contains a large number of campsites, perfect for glamping, car-camping, and even backpacking travelers.
Hoosier National Forest/Hickory Ridge Fire Tower: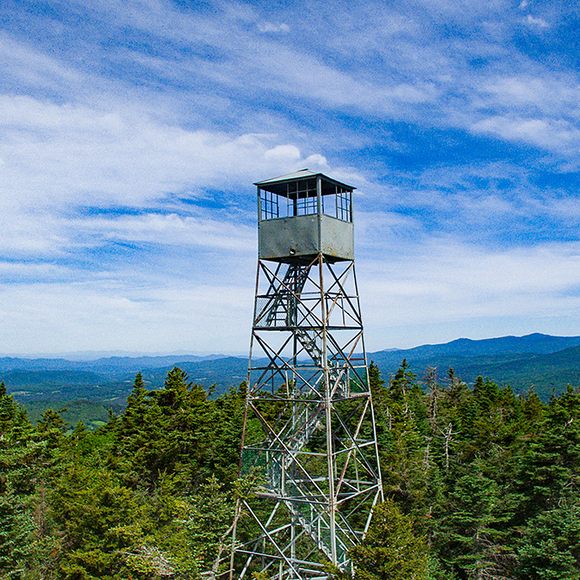 This section of wilderness is located just 10 miles south of Bloomington and borders Lake Monroe. Hoosier National Forest comprises over 200,000 acres and boasts recreational activities such as: mountain biking, camping, horseback riding, and hiking.
A key feature of Hoosier National Forest is the Hickory Ridge Fire Tower – a go to destination for those looking to see southern Indiana from above. This tower is 110 feet tall and is surrounded by miles of trails perfect for hiking through Hoosier National Forest. Trails located near the Hickory Ridge Fire Tower include the Peninsula Trail (10 miles roundtrip – fantastic views of Lake Monroe) and the Patton Cave Loop (7 miles – spend time exploring the caves of southern Indiana).
Yellowwood State Forest:
Located between Bloomington and Nashville Indiana, Yellowwood State Forest is a top choice for where to spend a weekend surrounded by the scenic views of southern Indiana. With over 25,000 acres of forest for camping and hiking, and a 133-acre lake for paddle sports and fishing, Yellowwood has it all!
This forest is also home to the second longest trail system in Indiana, the Tecumseh Trail. This 42-mile trail traverses from Morgan-Monroe State Forest (north of Bloomington), down through Yellowwood, and eventually culminates in Brown County. This trail can easily be broken into smaller sections as well.
Bloomington, Indiana is a vibrant city that blends an academic community with an outdoor community, giving life to a robust and diverse range of outdoor activities to participate in. After checking out the places on our list, we're sure you're going to find yourself looking for more opportunities to visit Bloomington!